Epocrates Rx for BlackBerry
View the demo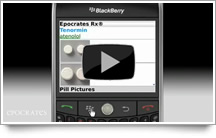 Our most popular premium clinical software suite, Epocrates® Essentials, is now available for the BlackBerry®. Trusted clinical content and features include:
Reliable information for thousands of disease topics
Lab prep, interpretation, and follow-up
Safety information for Rx, OTCs, and alternative medicines
Specific/empiric treatments for hundreds of infectious diseases
View this demo by Dr. Hanh Le and see how the new Epocrates Essentials suite for BlackBerry supports a patient's consultation from diagnosis to treatment.
Customer Testimonials
Being able to quickly access information about a specific product inflammation
drug interaction checker is excellent!
I love it---very helpful to me providing healthcare.
- Dr. Mashelle Bradford-Morris