Epocrates DocAlert Messaging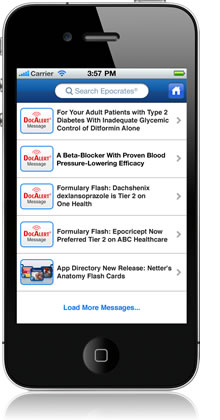 What are Epocrates DocAlert Messages?
DocAlerts are brief medical news alerts delivered to your mobile device. They are designed for quick scanning, and allow you to determine if you want more comprehensive information on the topic. DocAlert messages are carefully selected by Epocrates editors, often in consultation with outside specialists and publishers, and include summaries and expert commentary. Topics include clinical alerts, CME alerts, government safety alerts, and medically relevant tips on practice management.
Specialty Content Channels
If you use Epocrates Essentials or Epocrates Rx , you will receive DocAlerts when you AutoUpdate (Sync while connected to the Internet). If you registered as a specialist physician, you will receive targeted specialty content in addition to general medical content.
Receiving DocAlerts
Receive up to four DocAlert messages each time you update your software

Locate DocAlerts from the Notifications icon on your home page or under "Alerts" at the bottom of your screen
DocAlerts stay on device for up to 10 days and you may forward information at any time

Follow Up Email

Tap "

Email More Info

" to get the complete abstract or article via email next time you AutoUpdate (Sync while connected to the Internet)
Sync a second time if you want to immediately receive the article or abstract
Only receive articles you request
Make sure you are receiving DocAlert messages
Log on by clicking on My Account and enter your email address and password (if needed)
Click Edit next to "User Profile". Current Password
Under "Enter Current Password", re-enter your current password then click Submit Data .
Under "Specialty", use drop-down menu to check or change your current specialty
Click Submit Data .
Do we have your current email address?
It is very important that you keep your email address up to date within your user profile in order to receive your emails. Also, if you have 'spam protection' software, create an address book entry for docalerts@epocrates.com so that your DocAlert emails can get through your filter.