Overview
Features
Go Premium
Epocrates for Institutions
Go Premium
With Epocrates Essentials, you'll get even more. Access premium content on all Epocrates-supported devices with a single subscription.
Buy Now - $159.99/yr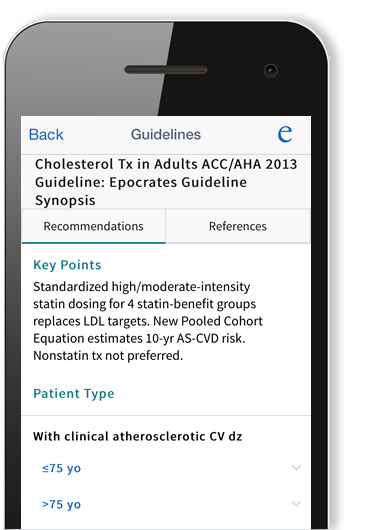 Clinical Practice Guidelines
NEW! Access evidence-based, patient-specific guidelines from national specialty societies—scaled for the moments of care. Select a patient type to view the actionable recommendations from the relevant sections of the guideline. When a deeper dive is necessary, simply tap the reference link to access the full guideline direct from the source organization.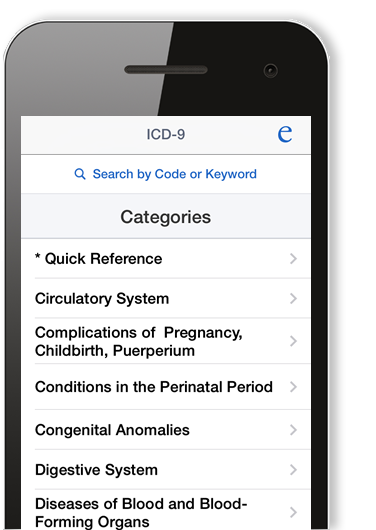 Billing & Diagnosis Codes
NEW! Quickly search ICD-9 &amp CPT® Codes codes by partial code, diagnosis, procedure or category. Plus, save frequently looked up codes to a list of favorites.
Alternative Medicine Content
Consult concise drug monographs for alternative medicines, including popular herbals (e.g., Echinacea, ginkgo biloba, or St. John's wort) and other supplements (e.g., coenzyme Q-10, DHEA, or glucosamine sulfate). Review reported uses, reported doses for various conditions, cautions, adverse reactions, a list of synonyms, and other helpful information. Check for possible interactions with up to 30 drugs at a time including brand, generic and OTC drugs.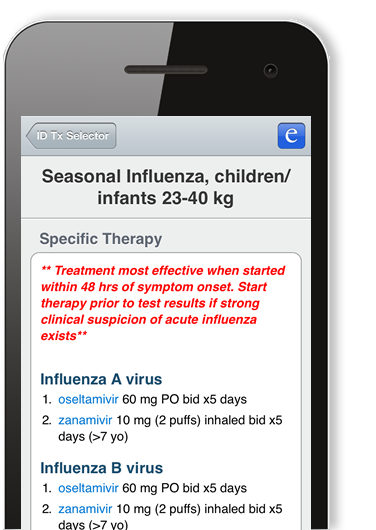 Infectious Disease Treatment Guide
Look up infectious diseases by name or system to view empiric and specific treatment recommendations. Simply tap to read and review complete monographs for each drug name listed.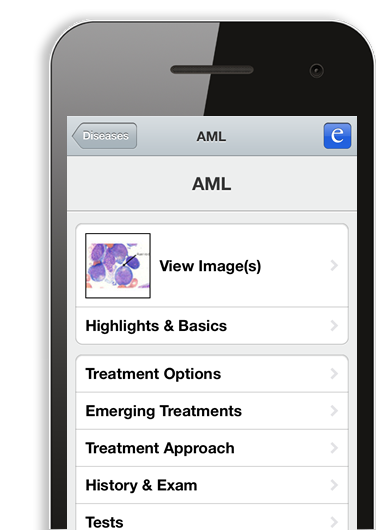 Disease Content
Consult in-depth, peer-reviewed disease content developed in collaboration with BMJ, publishers of the British Medical Journal.
This premium offering presents disease states in the form of concise monographs that include a brief summary, risk factors, history and exam highlights, tests to order, differential diagnosis with links to respective disease monographs, evidence-based treatment options uniquely arranged by specific patient type, a library of rich images and more.
Universal Access
Pay $159.99 once for one year of premium content that you can access from any of your Epocrates-supported mobile devices and desktop.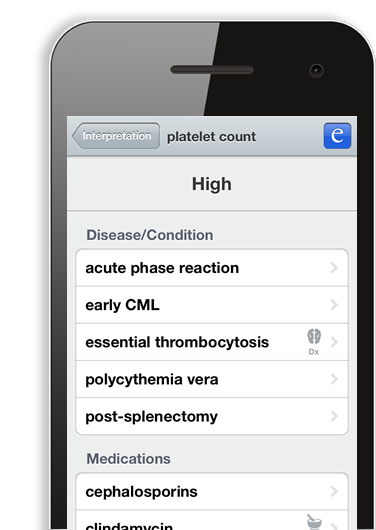 Labs & Diagnostic Information
Get help with hundreds of lab tests and panels. Check interpretations, based on high/low abnormal values, which provide differential diagnosis of drug, disease, and spurious causes. Access reference ranges, preparation and collection guides, approximate test costs, and commonly associated ICD-9s. Review integrated drug and disease information and follow-up recommendations.
Buy Now - $159.99/yr
Sorry, this promotional offer has expired. However, if you are still interested in purchasing Epocrates Essentials, click the "Buy Now" button below.