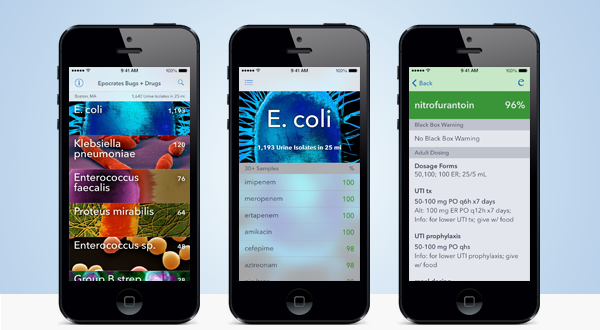 Epocrates Bugs + Drugs

Geotargeted Prescriptions for Infectious Diseases

By: Anne Meneghetti, MD
We are so excited to share with you our stunningly beautiful new iOS 7 app, Epocrates Bugs + Drugs. It's an antimicrobial susceptibility matrix dynamically created for any zip code in the country. We were inspired by many of you who love using our Infectious Disease Treatment Selector and asked us to integrate antibiotic sensitivity data. Thinking about the well-worn hospital-based antibiograms carried around in white lab coat pockets gave us a big idea: What if we could create antibiograms for the ambulatory setting, revealing bacterial resistance patterns in the communities where patients live and work?
Thanks to big data from the cloud-based athenahealth EHR, we have access to thousands of bug-drug sensitivity lab data points every day. The Bugs + Drugs app works by geolocating your iOS 7 device and delivering a rank-ordered list of the most common bacteria found in urine, blood, or skin specimens for that area. Switch to any desired location, and a radius is dynamically sized to provide meaningful results. Tap on each bacterium to reveal localized sensitivity data by drug. You can browse excerpts from Epocrates Rx® drug reference and link to complete drug monographs for full prescribing information.
The CDC recently reported that over two million patients suffer from antibiotic-resistant infections each year, resulting in at least 23,000 deaths. Now, you can harness the power of big data to support more personalized, geotargeted prescribing in the moments of care. Decisions made in these moments can affect future antibiotic resistance patterns for the entire population.
Download the Epocrates Bugs + Drugs app for iOS 7 today, and tell us which enhancements you would like to see next.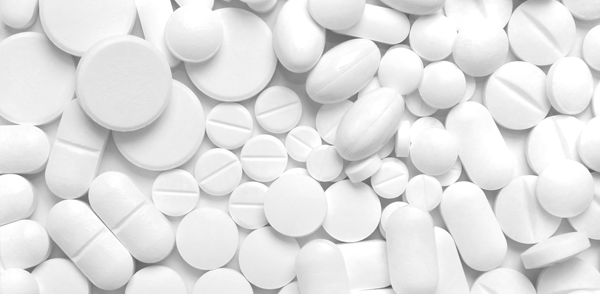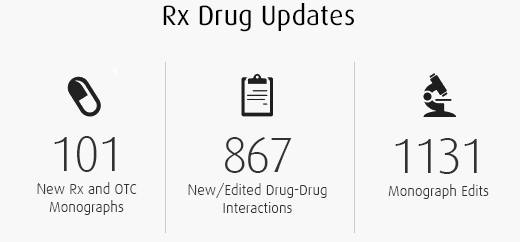 Noteworthy New Drugs

By: Jennifer Swenson, PharmD, BCPS
Fall is here and the flu season is nearly upon us. Four new quadrivalent vaccines have been introduced to keep you and your patients going strong (Fluarix Quadrivalent, FluLaval Quadrivalent, FluMist Quadrivalent, and Fluzone Quadrivalent).
We added the new oncology drugs Mekinist (trametinib) and Tafinlar (dabrafenib) for melanoma and Gilotrif (afatinib) for non-small cell lung cancer. A new integrase strand transfer inhibitor (INSTI), Tivicay (dolutegravir), joined the growing HIV armamentarium. Other new drugs included Belviq (lorcaserin), the first drug approved for the long-term treatment of obesity, and Osphena (ospemifene) for menopausal dyspareunia, and Oxytrol for Women (oxybutynin transdermal), which is now available over-the-counter to treat overactive bladder. See more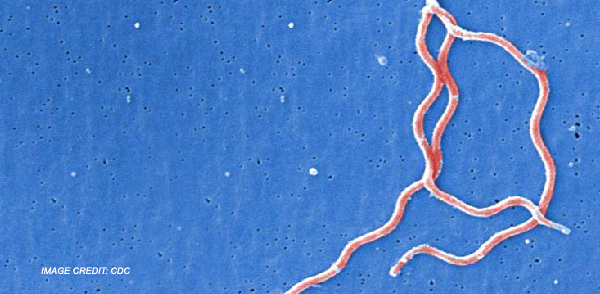 Diseases Focus: Lyme Disease

By: Walt Hadikin, MD
Lyme disease is a tick-borne zoonotic infection caused by the spirochete Borrelia burgdorferi; small mammals serve as the primary reservoir. Lyme disease peaks between May and October and prevalence is highest in the Northeast, Midwest, and West Coast areas of the U.S. The most common initial manifestation is the skin lesion, erythema migrans. Arthritis, CNS, or cardiac involvement may later ensue. Diagnosis is based on clinical findings, exposure history, and positive serology. Single-dose doxycycline is indicated for post-exposure prophylaxis. Treatment for the erythema migrans stage consists of amoxicillin or cefuroxime x 14-21 days, or doxycycline x 10-14 days. Arthritis warrants longer courses of therapy; cardiac or CNS disease may require hospitalization.
Read more about Lyme disease


Lyme Disease Exerts a Heavy Toll for 2013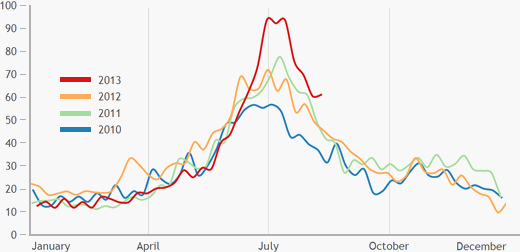 Lyme Disease diagnoses per 100,000 visits to primary care practices
served by athenahealth. Click here for more on data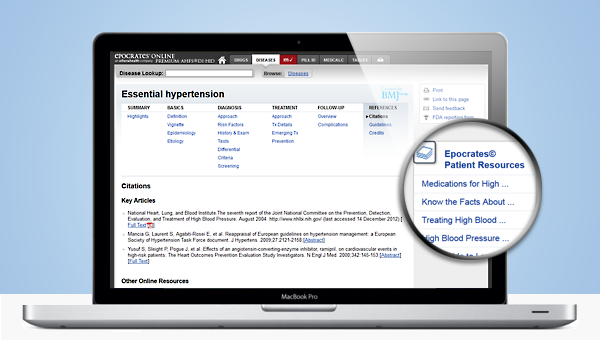 Patient Education Resources Now Linked
to Disease Monographs

By: Anne Meneghetti, MD
How often do you get those "I forgot to ask" questions? Empower your patients with materials from our online Patient Literature Library, which are now displayed alongside relevant Epocrates Online Diseases topics. Look for available patient education titles on the right side of your screen online. Click on a title to view, print, email a PDF or, if available, order free copies for your practice.
Disease Updates

Selected By: Walt Hadikin, MD
Hypercholesterolemia – Patient Resources from FDA, CDC (View)
Evaluation of red eye – Patient Resources from AAFP, Glaucoma Foundation (View)
Obesity in children – Patient Resources from FDA, CDC (View)
Overview of depression – Patient Resources from FDA, AHRQ (View)
Acne vulgaris – Patient Resources from NIH, FDA (View)
Prostate cancer – Patient Resources from USPSTF, ACS (View)
Sexual dysfunction in women – Patient Resources from NCI, ACOG (View)
Community-acquired pneumonia – Patient Resources from NIH (View)
Ischemic stroke – Patient Resources from AHA, ADA (View)
Smoking cessation – Patient Resources from ADA, AHRQ (View)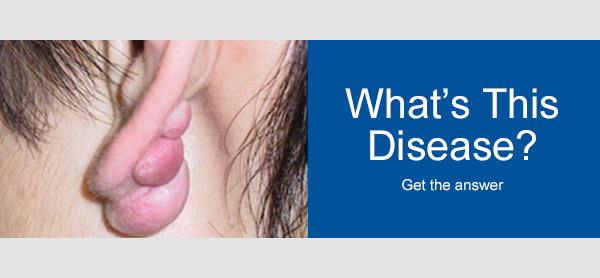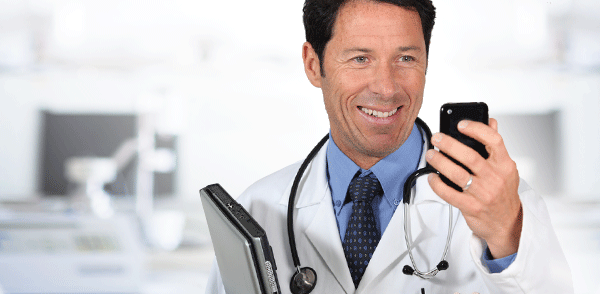 DocAlert Messaging: New Partnership
with The Cochrane Library

By: Anne Meneghetti, MD
Epocrates has been bringing practice-changing medical news, journal article summaries, and health alerts to its members through our DocAlert® messaging service for nearly a decade. Now, in addition to sources such as NEJM Journal Watch, BMJ Publishing Group, American College of Cardiology, AHRQ, FDA, and CDC, we are pleased to bring readers content from The Cochrane Library. A highly respected database of systematic reviews and meta-analyses, Cochrane has earned its place as one of the most recognized and trusted resources in evidence-based medicine.
Editor's Picks: The Cochrane Library DocAlert messages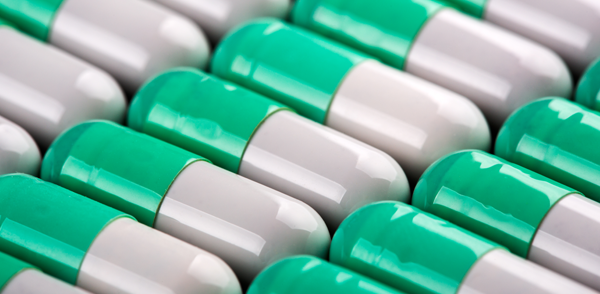 Clinical Question of the Quarter

By: Joshua L. Conrad, PharmD
Q: What's all this I'm hearing about acetaminophen?
A: Acetaminophen has been in the news recently and many healthcare providers are receiving mixed messages. Here is what you need to know.
Acetaminophen has recently been found to be associated with serious skin reactions, such as Stevens-Johnson syndrome and toxic epidermal necrolysis, which can occur with the first dose or after many doses. The exact incidence is unknown, but is suspected to be low.1


Although some companies have lowered the maximum dose of acetaminophen on their product labeling, the FDA and National Council for Prescription Drug Programs have upheld the traditional prescription and OTC maximums of 4 g/day in adults and 5 standard doses/day (75 mg/kg/day) in children under 12 years old to minimize the risk of hepatotoxicity.2-4
After more than 100 years since the discovery of acetaminophen, it is difficult to believe that we still do not know everything there is to know about this drug. It goes to show you the importance of continuing research and education on all therapeutics, new and old.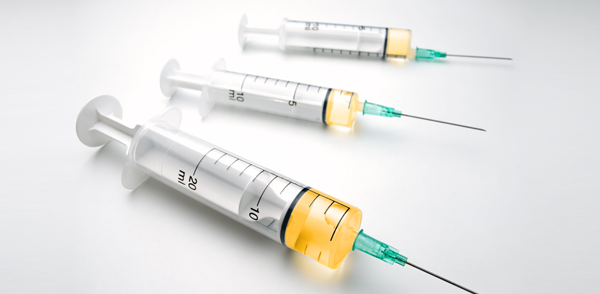 What's New at the CDC?

By: Walt Hadikin, MD
The CDC has announced the posting of the 2014 CDC Health Information for International Travelers (the Yellow Book) to their website at www.cdc.gov/yellowbook. Included are new sections on travel-related infectious diseases, new select destinations, and advice for last-minute travelers.

The new STD Tx Guide app from the CDC is an easy-to-use reference to help healthcare providers identify and treat STDs. The app integrates information from the STD Treatment Guidelines and MMWR updates.

In the CDC's "Solve the Outbreak" App for iPad® you decide what actions to take as you work the front lines of emerging epidemics. The better your answers, the higher your score and the more lives you save.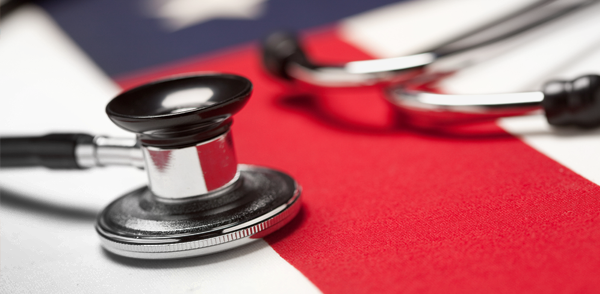 Debunking Urban Myths: How the Affordable
Care Act Will Affect Clinicians
Urban myths about the ACA still abound. According to Dr. William Rogers of the Centers for Medicare & Medicaid Services, "There is no federal health insurance created by the Affordable Care Act. Newly covered patients will have the same sort of commercial policies that doctors currently work with."
The insurance coverage expansion beginning in January 2014 will result in more patients seeking primary and specialty care. States have the option of expanding Medicaid to cover those earning less than 133% of the federal poverty level; those earning up to 4 times the federal poverty level will be able to purchase traditional commercial health insurance at the new Health Insurance Marketplace with subsidies to make it affordable. Clinicians will be seeing fewer patients who are uninsured, and services considered "essential health benefits" will be covered by all marketplace health plans.
Practices can support their patients by encouraging them to sign up for coverage through the Marketplace at Healthcare.gov.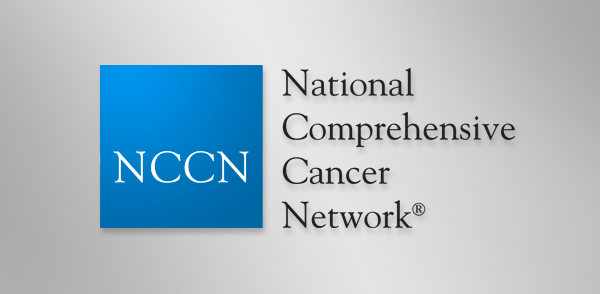 Stay Current with Oncology Best Practices: NCCN Guidelines

By: Walt Hadikin, MD
Members are calling NCCN Guidelines® by Epocrates "awesome," "invaluable" and an "easy-to-access resource." Epocrates continually refreshes the content of this interactive app with NCCN Guidelines® updates, including recent changes to the Breast, Colon, and Prostate cancer guidelines, so our members can rely on expert, leading-edge best practices in oncology treatment.
Non-Hodgkin's Lymphomas, our newest addition, includes CLL/SLL, DLBCL, and Follicular Lymphoma. Fully interactive guidelines for other NHL cancer types are launching this fall.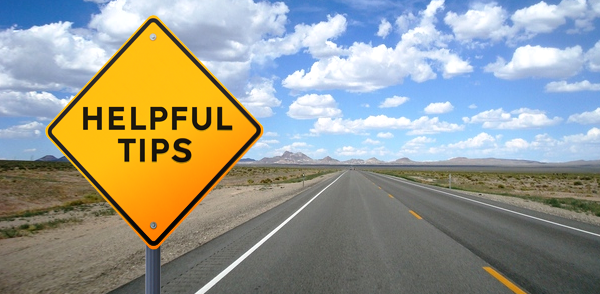 Explore 7 Tips for Achieving Financial
Health in Your Practice

By: Anne Meneghetti, MD
Looking to achieve peak practice performance? Complete this EssentialPoints® activity and learn how tactics like pre-processing patients and appealing denials rapidly can help you reach your financial goals. Plus, you may be eligible for a free month of Epocrates Essentials. The activity is available under the EssentialPoints tile of the Epocrates home screen.
For practice tips, visit athenahealth's whitepaper resource.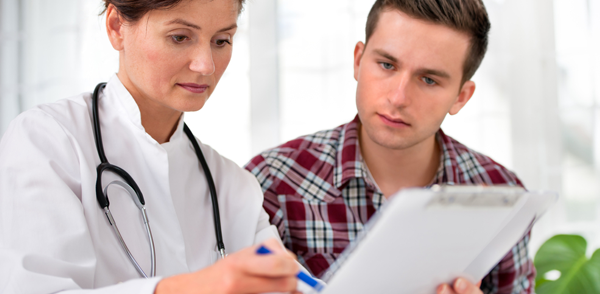 DocAlert Editor's Pick

By: Anne Meneghetti, MD
Looking to achieve peak practice performance? Here is a preview from athenahealth's whitepaper, Getting Your Practice "In the Zone": 7 Tips for Achieving & Sustaining Financial Health.
Convert "lost" patient time into billable time. Schedule appointment requests within 1 week to reduce no-shows. Open time for same-day appointments and create a waitlist to fill last-minute gaps.
For more practice tips, visit athenahealth's whitepaper resource.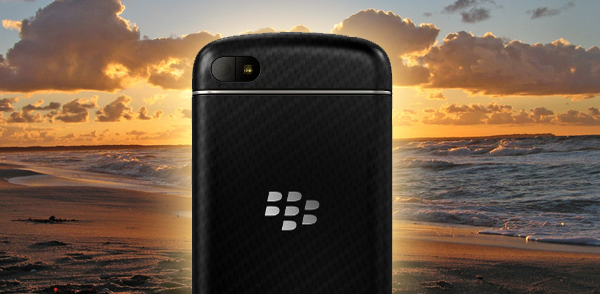 Discontinuation of BlackBerry Support
At Epocrates, we strive to continually improve our products and take advantage of the latest developments in mobile technology. To continue delivering the best set of features and services to our clinicians, we have made the difficult decision to discontinue support for BlackBerry devices, effective January 15, 2014.
We understand how important Epocrates is in your daily practice of medicine, and we are here to help you transition to another supported mobile device. This way, you can continue to receive access to Epocrates without interruption.
Check out our FAQ for more information.

ERRATUM
The Cluster headache monograph in the Epocrates Diseases reference was removed in order to correct one of the therapeutic options listed in the Treatment Details section pertaining to patients with CAD. The updated monograph is now available.
Copyright ©2013 Epocrates, Inc. All Rights Reserved. Epocrates, Inc., 1100 Park Place, Suite 300, San Mateo, CA 94403 www.epocrates.com

Epocrates, an athenahealth company

Apple, the Apple logo and iPhone are trademarks of Apple Inc., registered in the U.S. and other countries. App Store is a service mark of Apple Inc.

* Lyme Disease diagnoses per 100,000 visits to Primary Care Practices. Data based on visits to 488 practices in athenahealth network from 2010 to 2013. Includes 32,138 diagnoses of Lyme disease out of 99,746,830 total visits.

1. Food and Drug Administration. FDA Drug Safety Communication: FDA warns of rare but serious skin reactions with the pain reliever/fever reducer acetaminophen. 2013 Aug 1. Available here.

2. Food and Drug Administration. 21 CFR Part 21. Organ-Specific Warnings; Internal Analgesic, Antipyretic, and Antirheumatic Drug Products for Over-the-Counter Human Use; Final Monograph. 2009 Apr 29. Available here.

3. Food and Drug Administration. Guidance for Industry: Organ-Specific Warnings: Internal Analgesic, Antipyretic, and Antirheumatic Drug Products for Over-the-Counter Human Use - Labeling for Products That Contain Acetaminophen [draft]. 2012 Jul. Available here.

4. National Council for Prescription Drug Programs. NCPDP Recommendations for Improved Prescription Container Labels for Medicines Containing Acetaminophen, Version 1.1. 2013 Jan. Available here.