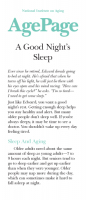 A Good Night's Sleep (AgePage)
Source:
NIA (National Institute on Aging)
The NIA's 10-pg booklet addresses common sleep problems in older people, including insomnia, movement disorders, sleep apnea, and Alzheimer disease. Tips for restful sleep are covered, including sleep hygeine, scheduling, room darkening, regular exercise, meal timing, and caffeine consumption. Safety guidance to avoid falls and other issues is addressed.