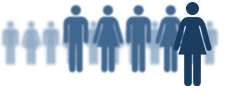 1.4 million US healthcare professionals
Our network of healthcare professionals, located across the US, represents a variety of specialties including oncology, cardiology, rheumatology, neurology and endocrinology.
Q&A
Targeted results from up to 10 multi-choice, open-ended and numeric questions returned within 24 hours.
Write your questions into easy-to-use templates
Easy to download excel results
Watch the responses come in real-time
If you want to follow up with a physician; invite them to a call

Survey
Rigorous online surveys; watch results come in real time
Draft your questions and upload your document to our portal
Provide your project criteria
Raw data available for your analysis

Summary Report
Provides analysis of Q&A and survey raw data
Timely output to match your deadlines
Epocrates or client-tailored templates

1:1
Private phone calls with our healthcare experts
Provide your project criteria
Ask an audition question to decide who you'd like to speak with
Enter your availability and let our automated system do the scheduling match for you

CONTACT US:

Send us an email


athenahealth
502 Carnegie Center Drive
Suite 301
Princeton, NJ 08540

For general Epocrates support click here.