Epocrates Rx
Current Epocrates Members

To download Epocrates Rx free software to your iPhone or iPod touch visit the iTunes App store
OR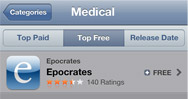 Go to your iPhone/iPod touch Home screen and access the App Store.
Select the "Medical" category and locate "Epocrates"
Tap "FREE" and follow the on-screen instructions.
IMPORTANT: Make sure you have OS 3.1.3 or newer installed or above Tap the button below to go to Epocrates in the App Store.